AKA Does The Unexpected Right After Leaked Videos- Do You Think Is The End Of AKA's Career?
While many people were glad that the superstar had come out of hiding after he mourned the death of his finance Anele Tembe, a series of events has threatened the rapper yet again and he had to make a very difficult decision. After a month or so of zero public appearances, AKA first came out with a statement that he is still coming to terms with the death of Anele then a couple of weeks later he released another statements to defend himself from leaked pictures and videos.
The whole of South Africa saw the pictures of AKA smashing the door open with his bare hands to try and get to Anele who had locked herself in a room. Those pictures did not look good for AKA at all. Things continued to get worse when videos of Anele in what seems to be a frantic state showed up. She was screening that people do not know what he is doing to her. Even though AKA tried his level best to defend himself from the video he failed.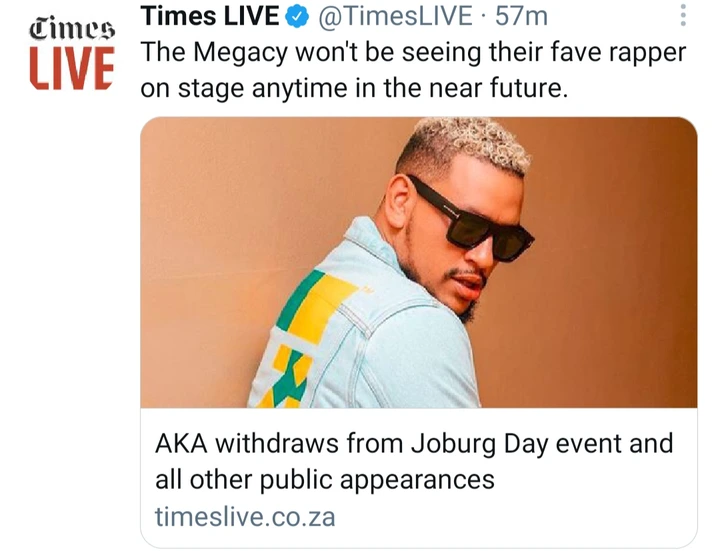 In what seems to be an unexpected turn of events, the South African rapper has withdrawn from all public appearances and events yet again. He had made a decision to come back to the game but after those controversial videos and pictures, it seems he felt he needed to lay low even more. The whole country is still trying to figure out if he did what he is being accused of or whether he is being framed.
AKA did not fully explain why he chose to cancel all his public appearances but it seems like it has everything to do with the videos that popped up. What is bothering South Africans the most is the fact that AKA has not yet explained to the public what really went down on the day of Anele's death. It is public knowledge that he was there in the room with her the day before but all his statements are not explaining what exactly happened.
The AKA and Anele case has taken an unexpected turn after the videos were leaked but to peoples surprises, the police have not released even a single statement explaining whether or not the videos will act as some sort of evidence or whether the cause of death for Neli's death was figured out. It seems that the case's investigations are kept secret even though her death was in public.